When you park your car, you will see the rough mountain wall with the green container house on top. Climb the stairs and go inside, hang your hat on the mouth blown glass coat rack, feel the soft leather grib on the staircase railing, and go to the livingroom. Grab a cold bottle of cava and some glasses and throw yourself into the patio to relax and enjoy, before you explore the house further.
Our house is not fancy, but it is definitely a creative space, filled with creative solutions and with room to unfold.
Do your yoga on the deck, read a book on the rooftop terrace, paint, play, relax. There are also plenty of outdoor activities in the mountains down the road, hiking routes and mountain biking
"TO LIVE CONTENT WITH SMALL MEANS, TO SEEK ELEGANCE RATHER THAN LUXURY AND REFINEMENT RATHER THAN FASHION –THIS IS MY SYMPHONY"
– William Ellery Channing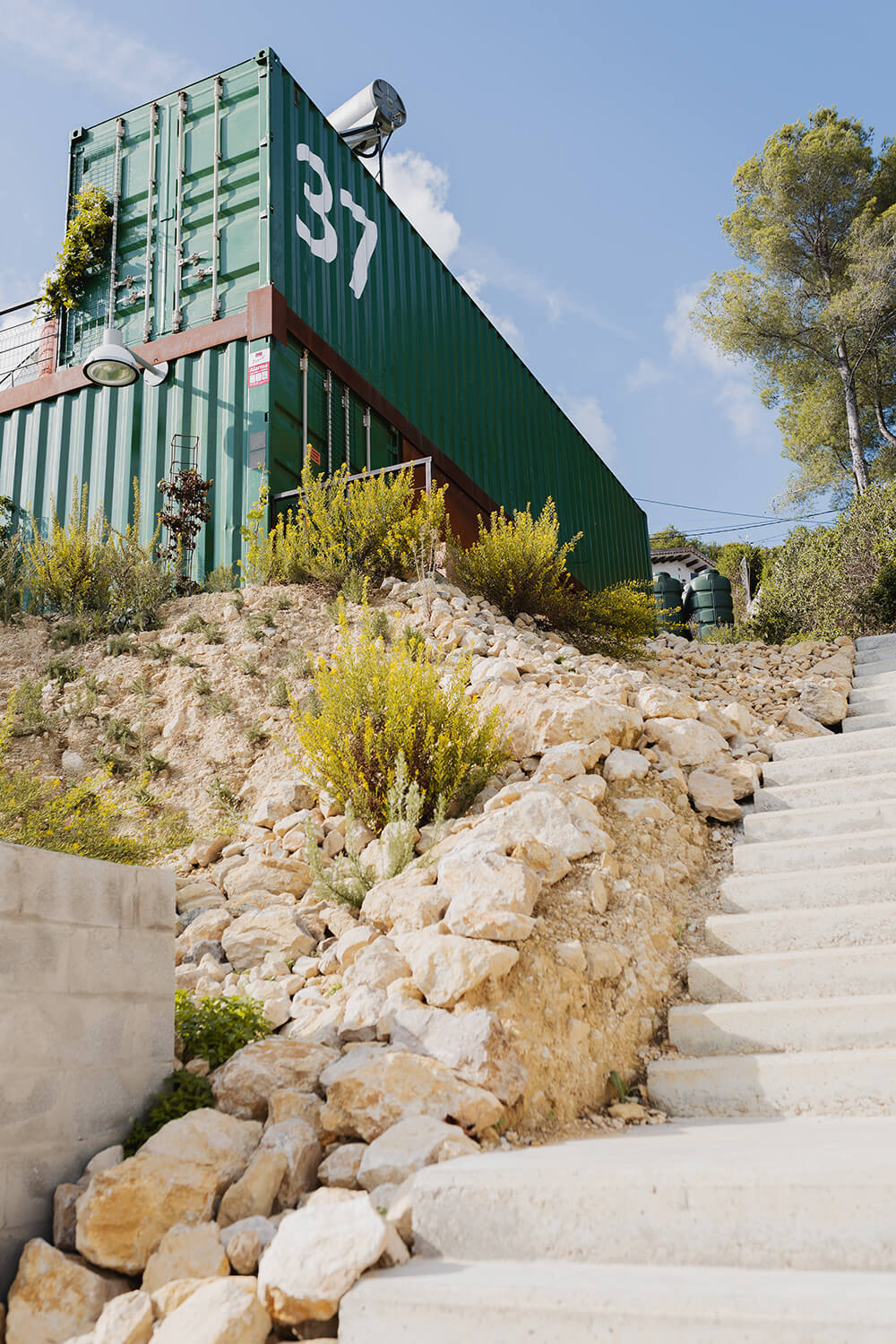 The house is 115 m2, 2 floors and has capacity for 7 persons.
The ground floor has an open space kitchen and living room with double glass doors and big windows towards the patio, a bathroom, and a utility room. There is also a bedroom with privacy, facing the patio, this room has a double bed.
On the first floor, there is one bedroom and an open space area with an alcove. The bedroom has a double bed, a toilet and direct access to the rooftop terrace. In the open space area there is an alcove with a double bed overlooking the patio – and also a single bed with a curtain.
In the patio you will find an area for dining with a gas grill, a relax zone, and the salt water pool. The house is overlooking the mountains, a couple of houses, and the Mediterranean ocean in the horizon. To enjoy the full view make yourself a cup of coffee with steamed milk on the coffee machine and go to the rooftop terrace.